Access to Gases All Over the World INDUSTRIAL GAS Pilipinas Trade Gas Inc. Please Contact Us
PILIPINAS TRADE GAS, INC.(abbreviation:PTGI)
Pilipinas Trade Gas Inc. was established in 1995. The company is an affiliate of Tomoe Group, a leader in producing and distributing industrial gas and gas for medication in Japan. Working together with Tomoe Shokai Company, PTGI has been transferred the modern technology, knowledge and profession regarding gas for industrial and medication, and other special gases. The company has modern and accurate analyzing equipment such as GC gas analyzing machine, Oxygen measuring machine, moisture measuring machine etc. The company realizes that the importance of customers is number one. The company always cares about purchasing process, production, quality control and also after-sale service. The company has increased the number of branches to the North, industrial estate in the North and the East, Laguna Technopark industrial estate to cover and respond to the customers' needs which are getting higher.We will propose more optimal gas supply method by utilizing the experience cultivated over many years.
---
LINE OF BUSINESS
Distribution of Industrial Gases, Gas Equipment and other related business Construction Work
(Gas Piping, Storage Tank, Gas Separator/On-site Plant & other Technical gas support)
---
WHAT'S NEW
June 2019 - Philipinas Trade Gas Inc. was .........
Dec. 2018 - Philipinas Trade Gas Inc. was .........
Nov. 1995 - Philipinas Trade Gas Inc. company established in the Philippines.
BUSINESS NETWORK
---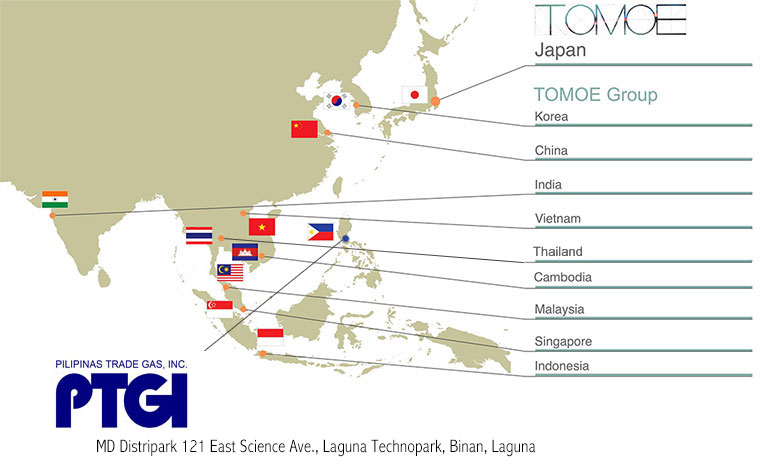 PRODUCTS OVERVIEW
---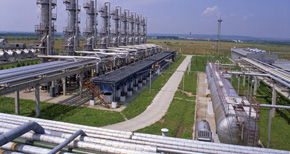 Pure Gases
Argon
Nitrogen
Helium
Hydrogen
Oxygen
Acetylene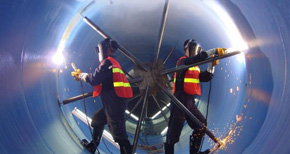 Mixed Gases
Laser gas
Argon mixed
Nitrogen mixed
Carbonmonoxide mixed
Hydrogen mixed
Helium mixed
Oxygen mixed
Krypton mixed
Xenon mixed
Neon mixed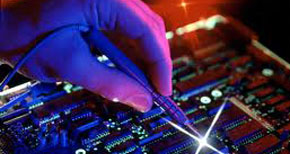 Special Gases
Dibromomethane mixture Argon
Dibromomethane mixture Nitrogen
Krypton Hgh Purity Grade 99.995%
Neon Purity
Nitrogen Purity
Sulfur Hexafluoride (SF6)
Tetrafluoro Methane (CF4)
Titanium Tetrachloride (TiCl4)
Xenon Purity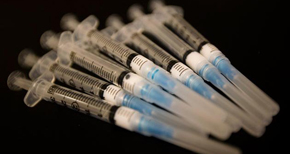 Medical Sterilization Gas, Sterilization Related Equipment
Ethylene Oxide 100%
Ethylene Oxide mixture Carbondioxide
Large EO sterilizer (20m3 ~ 40m3), Small EO sterilizer (1m3 ~), Steam sterilizer
Detoxification Equipment for Ethylene Oxide (H2SO4 Scrubber, Catalytic Burning)
Ethylene Oxide Concentration Meter (SEC SENSOR made in USA)
Biological Indicator
Chemical Indicator
Gas Mask For Ethylene Oxide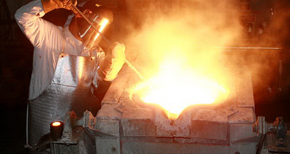 Fuel Gases
LPG
Methanol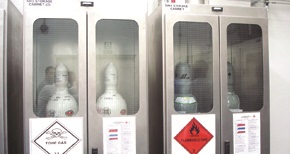 Gas Equipment
Storage tank (VIE, Vandle, Trailer, Gas holder, PBC)
Gas generator (Cryogenic separation method, PSA method, Membrane method, Reforming method, Water electrolysis method)
Gas Cylinder Cabinet
Gas Mixer
Exhaust Gas Treatment Machine
High Cconcentration Oxygen Dissolver for Fishing Industry
Shot Blast (Dry ice, Liquid Nitrogen) for Deburring
Gas leak detector (RIKEN KEIKI General Agent)
Welding Machine, Fusing Machine
Relevant Companies
---
Country
Name
Address
TEL
Japan
TOMOE SHOKAI CO,LTD.

Next Site Kamata Blog, 1-2-5, Kamata-honcho, Ohta-ku Tokyo 144/8505, Japan

813 (3734) 1111
Vietnam
VIETNAM JAPAN GAS CO.,LTD.
No.33, Road 3A, Bien Hoa Industrial Zone II, Dong Nai Province Vietnam
84 (61) 3836706
Vietnam
TOMOE VIETNAM CO.,LTD.
Plot 10 ,Street TS27, Tien Son Industrial Park, Tan Hong ward, Tu Son town, Bac Ninh Province Vietnam
84 (2413) 734670
Singapore
TOMOE TRANSTECH SPECIALTY GASES PTE LTD.
7 International Business Park Jurong East, Singapore 609919
65 (6563) 2083
Singapore
STERILE SERVICES (SINGAPORE)PTE LTD.
No.47A Jalan Buroh, Module 6, CWT Distripark, Singapore 619491
65 (6867) 9421
Thailand
TOMOE ASIA CO.,LTD.
700/733, Amata City Industrial Estate Chonburi, Moo3 Tambol Bankao, Amphur Panthong, Chonburi 20160, Thailand
66 (33) 045-600
Thailand
SIAM STERI SERVICES CO.,LTD.
700/644, Amata City Industrial Estate Chonburi, Moo3 Tambol Bankao, Amphur Panthong, Chonburi 20160, Thailand
66 (38) 447-019
Thailand
THAI-JAPAN GAS CO.,LTD.
1/1 Rojana Industrial Park.Moo5 Kharn Harm,U-thai,Ayutthaya 13210
6635(330)040
Cambodia
THAI-JAPAN GAS CO.,LTD. PHNOM PENH 支店
Land #923, Phlov Lum, Phum Anlong Kngan, Sangkat Khmounh,Khan Sensok,Phnom Penh, Cambodia.
855(23697)4999
Malaysia
TOMOE INDUSTRIAL GAS MALAYSIA SDN.BHD
1-05-05,e-GATE Lebuh Tunku Kudin 2 11700 Gelugor Penang, Malaysia
60 (4) 659-2177
Malaysia
TOMOE MALAYSIA SDN. BHD
Lot 13, Jalan Kulim Hi-Tech 13, Kulim Hi-Tech Industrial Zone Phase 3, 09000 Kulim Kedah Darul Aman Malaysia.
60(4)492-4101
China
上海都茂愛浄化气有限公司
上海市黄浦区西蔵中路656号美華大厦502号室
86(21)69170500
India
Tomoe Specialty gas and Chemicals India Private Limited
26,Vatika Business Centre,Supreme Business Park,Sharma Cottage, Hiranandani Gardens, Powai, Mumbai -400076,Maharashtra, India
91 (22) 3011-4658
Indonesia
PT.SAMATOR TOMOE
Kawasan Industri Jababeka II, Jl.Industri Selatan 4 Blok PP No.4A,
Pasirsari-Cikarang Selatan, Bekasi 17550, Indonesia
62 (21) 893-7930